Paisabazaar is the largest online marketplace for financial products in India. It has more than 60 partners across the lending ecosystem. Paisabazaar helps in picking up the best credit card according to our credit score. It also gives an idea about loans and their interest rate. Paisabazaar can be used to check our CIBIL score
Even though Paisabazaar is very useful when looking from the financial aspect its marketing methods are very annoying. The amount of spam emails and calls from Paisabazaar is very disturbing. This made me delete my Paisabazaar account.
Also read: How To Delete Your Paypal Account
Steps To Delete Paisabazaar Account
I have been searching in the app for a method to delete my Paisabazaar account, but surprisingly there is no method to delete the account from the mobile app. After a lot of searching, I finally found a method to delete the Paisabazaar account.
Follow the methods below to delete your Paisabazaar account
Open Chrome and got to Paisabazaar.com.
Tap on the three dots on the top right corner and enable desktop mode.
Tap on sign in and log in with your mobile number and OTP or using your google account.
Now tap on the three horizontal lines to open the menu.
Tap on FAQs, and scroll down until you see Account-Related Questions.
Now tap on "how can I delete my account from paisabazzar?" to expand it.
Tap on Click here (blue colour) within the question.
In the popup tap on Delete account to confirm it.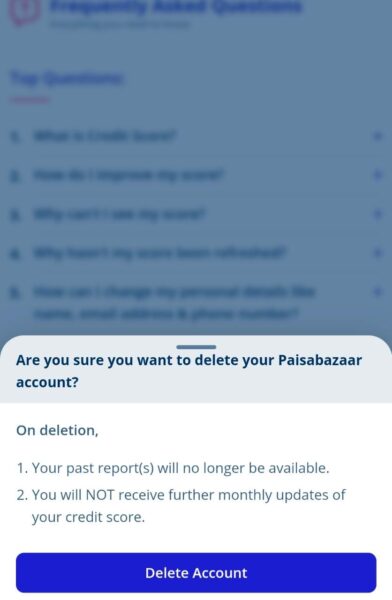 Remember that it will take around 10 days to complete the account deletion process. It is recommended not to sign in before 10 days as it may cancel the account deletion request.
Also read: How To Delete Naukri Account Permanently
If you continue to get spam mail and phone calls you can use the true caller app to block spam calls and block emails from paisabazzar.