PC Tricks
How to fix Display Capture not Working in OBS Studio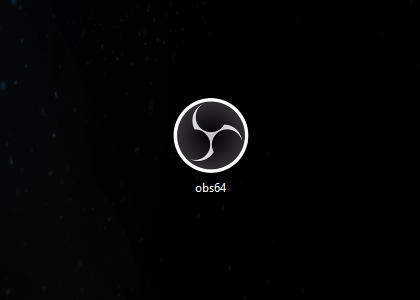 Open Broadcaster Software is a free and open-source cross-platform streaming and recording program developed by Hugh Jim Bailey. It is available in Windows 8, Windows 10, Linux, and Mac OS. OBS is the best screen recorder I have used it can be used to stream videos on youtube, twitch Facebook live, Twitter, and many other services.
OBS displaying a black screen while display capturing is one of the main errors OBS users face. It usually happens in devices which have integrated display and dedicated graphics card. This can be fixed using various methods.
Also check out: How To Check Screen Time on Android
How To Fix Black Screen In OBS Studio While Display Capturing
As I have mentioned above this error most commonly because of the integrated GPU and dedicated graphics card. It is a commonly found error in laptops because most laptops have two GPUs. It can be fixed by a lot of methods, But some may not work for you, So if a solution doesn't work you just move forward to another one.
Fix OBS Studio Black Screen By Changing Graphics Settings
Graphics settings help the laptop or PC to save battery power. This helps to choose between better performance or battery life. For example, ordinary software uses the intergrated grapgics card while games use dedicated graphics cards like Nvidia.
Also check out: Wifi Keeps Disconnecting Windows 10 Fix
Black screen error while display capturing in OBS is mainly because of this, So follow them ethods below to fix it.
Search "Graphics Settings" in the search bar and click on it.
Now go to the "App Preference" and set it to "Classic App" or "Desktop App" and click browse.
Go to the location of the OBS. Go to the obs-studio and click bin and choose 64bit.
Select OBS Studio by double-clicking.
Once selected click on options, Graphics preference will pop up.
To make OBS capture your desktop, select the "Power Saving" option, and click "Save".
Now close OBS and open it again. Hope this will fix your problem.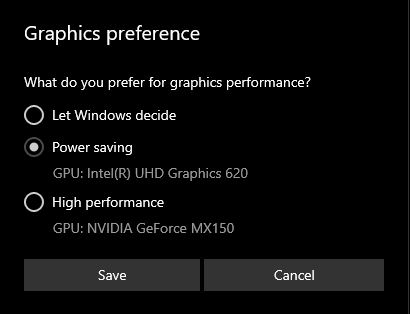 If your laptop or pc is old then you can't get the above options. Then you will have to follow another method.
Search for the Nvidia control panel in Windows search, and go to 3D settings on the left side of the screen. Then click on program settings. Under "select a program to customize" click on add and choose obs studio. After choosing OBS Studio click on add the selected program.
If you want to use display capture to capture your screen, select "Integrated Graphics" and
if you want to screen record a game select "High-Performance NVIDIA Processor".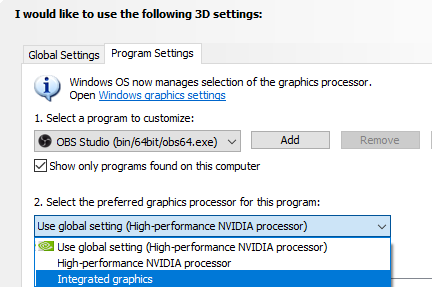 Updating GPU Driver, Windows, and OBS to the latest version
If you want to update the integrated GPU, Go to the device manager by pressing CTRL+R, then type devmgmt.msc and hit run. Click on the display adapter and choose the integrated device and right-click on it and click on check for updates. If an update is available download and wait for it to finish. If you have graphics cars Nvidia, open, Search for Nvidia experience and check for updates and install if available.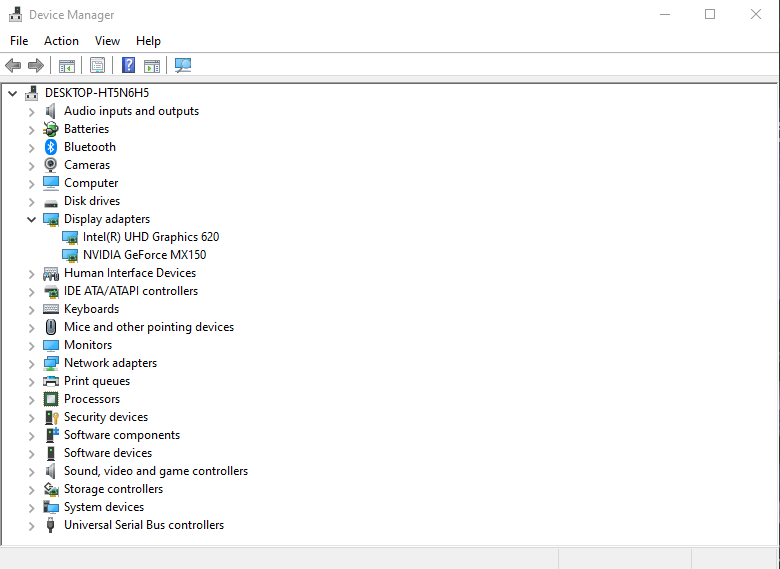 To do windows update select the Start button, then select Settings and scroll down until you see Update & security. Click on it and choose windows to update from it and search for updates. Windows update is known to fix OBS studio black screen while display capturing issues in many cases.
Another method is to update OBS to the latest version. This can be done from the OBS app itself. Open OBS Studio, Click on help, and then choose check for updates.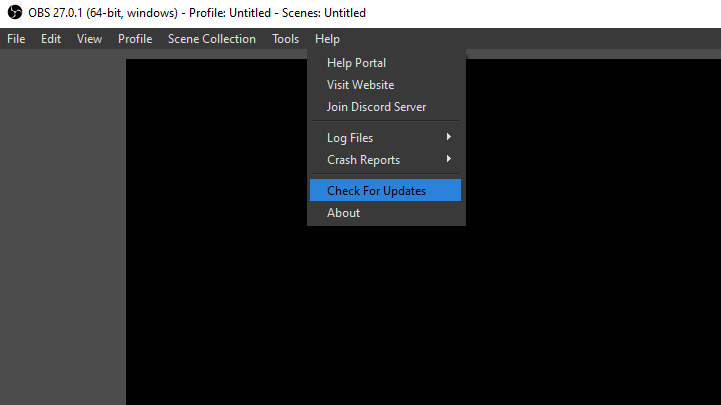 if it is is on the latest version it will show no updates are currently available. If an update is available click on download and installs to get the latest version of OBS.